Catherine Leonard (violin) and Hugh Tinney (piano)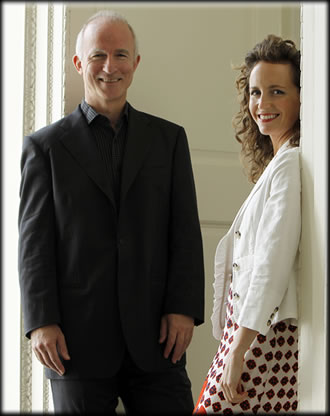 Well-known Irish soloists Catherine Leonard and Hugh Tinney discussed forming a duo from the late 1990's, and in '99 they agreed to team up and were immediately invited to join the small group of artists on the Music Network International roster. Their first joint recitals were on an Irish tour to Kerry, Galway and Mullingar in September 2000.
They played together internationally for the first time in 2001 in a tour of Sweden, and later that year performed a special concert in Helsinki's Finlandia Hall attended by the Presidents of Ireland and Finland.
In 2002, they collaborated in recording the CD "From the Book of Longing" of music by Irish composer Ian Wilson. This CD earned much praise in the British and Irish press; the Gramophone reviewer remarked "These are exemplary performances from Hugh Tinney and Catherine Leonard...Well worth hunting down."
Over the following decade, they played tours frequently and extensively in Ireland. Festivals they performed at included Eigse in Carlow, St Barrahane's in Castletownshend, Boyle Arts Festival and the FiddleFest in Derry. In Dublin, they performed a recital for Music in Great Irish Houses at St. Patrick's Hall in Dublin Castle, and in 2008 they took part in the Royal Dublin Society's Chamber Music Weekend.
Their second CD collaboration was a recording in 2007 of Beethoven's Spring and Kreutzer sonatas for the RTE Lyric FM label. "Violinist Catherine Leonard and pianist Hugh Tinney are magnificent here" wrote the Irish Mail, while the Journal of Music in Ireland commented "Especially striking about the performances on this highly attractive disc is the beguiling intimacy, quiet authority, meticulous attention to detail and carefully measured charm that Leonard and Tinney bring to bear throughout."
In spring 2010, they performed to great acclaim on a Camerata Pacifica tour of Los Angeles and the U.S. West Coast. "Empathetic, collective poise and personality were evident here…" (Santa Barbara News Press)
In October 2010, they did a recital tour around Ireland with support from the Arts Council of Ireland.
Plans for the future include performances of the complete cycle of the Beethoven Violin and Piano Sonatas in 2013.
For further information on the duo please go to www.classicallinks.ie or contact Madeleine Flanagan at madeleine@classicallinks.ie
"The give-and-take between the violin and piano in the Debussy, as the two players shadowed and led each other, was often magical"

Irish Times
Santa Barbara and L.A. – Hugh's debut in Brahms and Beethoven with chamber group Camerata Pacifica took in Los Angeles, Santa Barbara and the West Coast. See these performances on youtube and instantencore