Ian Wilson Sullen Earth, Hugh Tinney, Gordana Matijevic-Nedeljkovic (violin) and The Belgrade Strings, (RIVERRUN) released in 2009.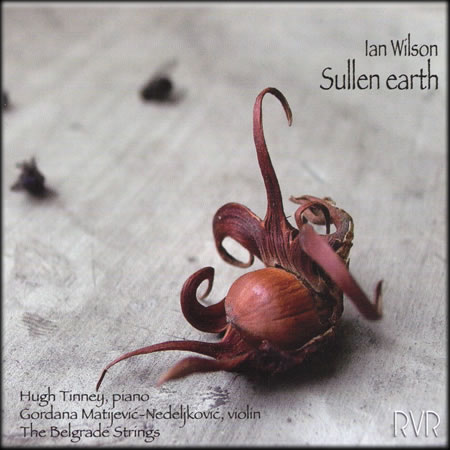 Ian Wilson Sullen Earth
Belgrade Strings Dusan Skovran/Ian Wilson * * *
The three string orchestra works recorded here traverse more than 10 years. Limena, "for piano and muted strings" (1988), makes the greatest impression. It begins in media res, with solo piano (Hugh Tinney) and orchestra appearing to drift in different musical worlds, the piano dribbling in a kind of melancholy rumination, the strings engaged in a distant commentary, independent-seeming yet related. It's like something forever feeding fascination to the corner of your eye..... www.rvrcd.com
Michael Dervan (Irish Times) 28 August 2009
Classical - Karen Dervan Ian Wilson: Sullen Earth
Commissioned by the Serbian musical forces in ardent evidence here, Ian Wilson's 2005 Sullen Earth is an archetype of a more recent compositional process that focuses on "stand-alone" building blocks of musical thought. The result is a distillation of conventional narrative or technical development into raw cells of emotion. Here combined with ["Limena", for] piano and strings, a more melodically florid affair, and the suite, "The Capsizing Man"', itself a juxtaposition of five concisely contemplated ideas, the disc is a well-balanced recital in itself. The added bonus is the presence of the composer as conductor.
Sunday Tribune, August 23, 2009
CD Reviews Sullen Earth Riverrun Records RVRCD80 (2009)
Gordana Matijevic-Nedeljkovic, violin, Hugh Tinney, piano and The Belgrade Strings, conducted by the composer, perform Sullen earth for violin and strings (2005), Limena for piano and strings (1998) and The Capsizing Man and other stories for string orchestra (1994/97).
"Blistered and bent into quartertones, the buckling solo line in Ian Wilson's 2005 violin concerto "Sullen Earth" picks obsessively at fragile, folklike figures before bursting into lyricism against the wheezing, accordion-like harmonies of the string orchestra. It's a bold work, and a bold performance from Gordana Matijevic-Nedeljkovic and the Belgrade Strings, who also accompany pianist Hugh Tinney in Wilson's subdued "Limena" (1998). Disturbing and cute, "The Capsizing Man" sees Wilson at his most accessible."
The Independent (Anna Picard), 16th August 2009.
"Two years ago, Riverrun released a disc of Ian Wilson's string quartets - four of them - and has now brought together three of his works involving string orchestra. Wilson's style has changed since 1999, when he was forced by Nato bombing to leave Belgrade and return to Ireland. The later music seems rougher hewn: less concerned with making formal patterns and more with expressing what it wants to say directly, often by boldly juxtaposing contrasting kinds of music material. That technique is seen in Sullen Earth for violin and strings, from 2005, in which everything is pared down to its emotional core, allowing the highly wrought textures to relax just once for an archaic-sounding lyrical interlude. Limena, from 1998, expands a solo piano by surrounding it with muted string textures, while the five taut miniatures that make up The Capsizing Man and Other Stories are all inspired by Giacometti sculptures."
The Guardian (Andrew Clements), 21st August 2009.